1 event,
Resilient Southern Illinois – Maslow Before Bloom: Basic Human Needs Before Academics
Attention Summer Readers...Mark your calendars now for our 4-week summer asynchronous book studies.  Participants in RSI districts, who complete all assignments, will receive a gift card reimbursement for the price of the book. July 5-31 - Maslow Before Bloom: Basic Human Needs Before Academics by …
1 event,
For more information and to register visit https://forms.gle/33Y1eE5jRnJfUtK99
1 event,
Free, 4-part webinar series for 2022 Attendance Works and our national partners are proud to launch the 10th annual Attendance Awareness Campaign webinar series. Schools, working with community partners, can strengthen relationships, social-emotional skills and promote daily attendance routines essential to student learning and well-being. …
1 event,
A special meeting of the Franklin County Regional Delivery System Board of Controls will take place on August 4th at 9am in the Campbell Building Conference Room, located at: 901 Public Sq Benton, IL 62812 Click here to view Notice/Agenda
1 event,
This training will provide individuals with a general understanding of professionalism, curriculum and classroom management techniques, school safety, and also district/building operations.  This training is required for individuals wishing to obtain a Short-Term Substitute License. Join us at ROE #21 for our In-Person Subs for …
1 event,
Thursday, August 25 at Central Christian Church, Mt. Vernon. Food vendors open at 5:00 p.m. with speaker starting at 6:45 p.m. Teach Like a PIRATE author Dave Burgess will be speaking a high-energy, entertaining, and inspirational program that will transform the way you look at …
1 event,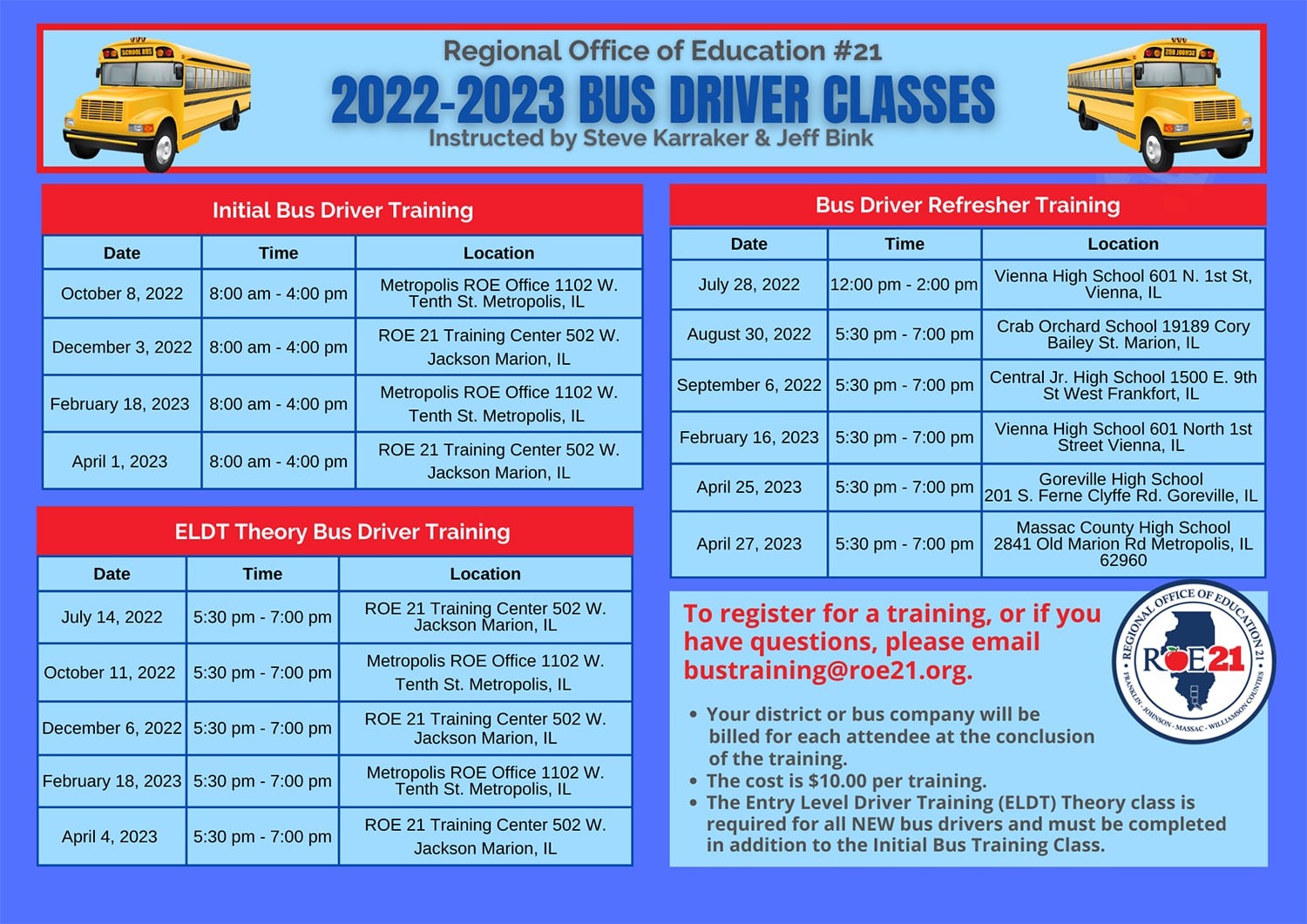 Bus Companies: To register drivers for an upcoming initial, refresher, or ELDT training, please download this spreadsheet and email it to bustraining@roe21.org.
1 event,
Based on the proven principles from Jon Gordon's bestselling book, The Power of Positive Teams (POPT), we'll share proven strategies and practices to help you build a stronger, more united, and connected team.  POPT is an interactive program facilitated by Dr. Kelly D Stewart, a …