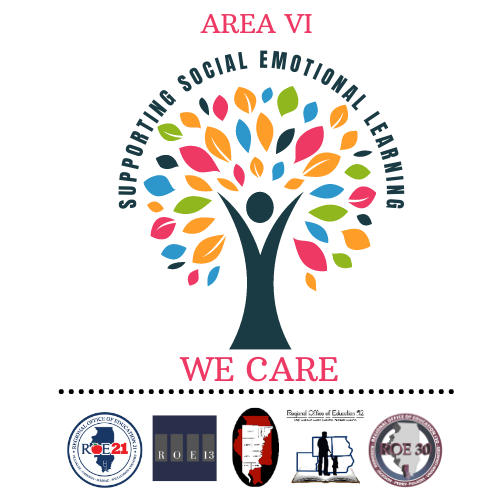 Social Emotional Learning (SEL) and Trauma Response Grant
This grant allows districts, in partnership with Social Emotional Learning (SEL) Coaches, to identify, develop, and implement a comprehensive plan to address the safety and well-being needs of students and staff. 
ROE #21 serves as the Hub for Area VI and is located on site at the Regional Office of Education #21 in Marion, IL. Each of the six ROEs in Area VI house an ROE SEL Culture & Climate Coach. As a statewide team, the ROE SEL Coaches participate in ISBE sponsored training, professional development, and collaborate with the statewide Resilience Education to Advance Community Healing (REACH) initiative to train educators, school mental health professionals, and community members to recognize the signs and symptoms of trauma and to address students' social-emotional and mental health needs.
As our schools continue to struggle with attendance, discipline, and teacher burnout, our ROE SEL Culture and Climate Coaches are here to help! We offer assistance to educators, staff, and district leaders by providing the support and resources needed to be successful during this difficult time. This work has allowed each ROE to build capacity within districts in each region by building a cohort of school/district leaders. The SEL School/District Leaders serve as liaisons to help support specific school/district needs. This opportunity has been extended at NO COST to ALL schools and districts in Area VI. District Leaders and the ROE SEL Coaches work in partnership with local districts to:
Assess the school/district current Social Emotional Learning needs

Create a School REACH team to identify strengths and areas for improvement

Create a school/district action plan

Implement the action plan, which includes goals, resources, strategies, and targeted professional development